PayPal stock has plunged more than 50% this year and is down around two-thirds in the last 14 months

The stock is facing a sharp reduction in revenue growth amid a slowdown in e-commerce after the pandemic boom

However, PayPal is a much better buy now due to its long-term growth potential and a cost-cutting drive
As disruptors take advantage of slowing e-commerce growth to challenge the dominance of the industry's major players, picking a winner in the sector is becoming increasingly tricky.

One victim of this shift is PayPal Holdings (NASDAQ:), which has lost more than 50% this year and around 66% from record highs.
PayPal's decline is much steeper than that of the and suggests investors have lost faith in the San Jose, California-based company's growth potential.
Analysts expect a 10% growth in revenue for the company's Q3 results, which are scheduled for Thursday, November 3. Earnings per share are expected to decline about 14% compared to the same period last year.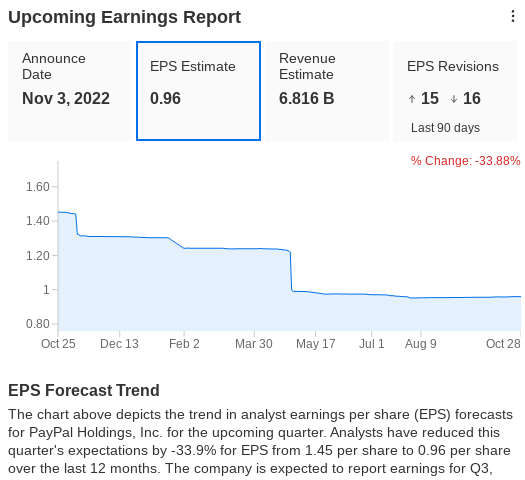 PayPal Earnings Estimates
Source: InvestingPro
If these estimates prove accurate, they will mark a sharp reduction compared to the pandemic-era boom. PayPal's revenue growth was 21% and 18% in 2020 and 2021, respectively, amid a historic, pandemic-driven shift to online shopping and digital payments.
There Is Still Value, However
Despite this considerable deceleration in business, there is value in PayPal stock if you look past the short-term volatility.
The biggest attraction I see in this trade is that its valuations are smooth after the excessive froth built during the pandemic. PayPal's stock is now valued at just 18 times forward earnings, much lower from around 30 times in December 2019 and an average of 36 times over the last five years.
PayPal business will also be less volatile once the company ultimately winds down its relationship with eBay (NASDAQ:), which was transitioning to new payment arrangements in a prolonged process that were largely done by the end of 2021.
The presence of past eBay revenue in year-earlier base figures is still dragging down growth rates by around four percentage points. But this drag will be entirely gone by the fourth quarter of this year, putting PayPal's growth on a normal track.
Growth Catalysts
The company was born of a merger in 2000 between online bank X.com, a company founded by Tesla (NASDAQ:) CEO Elon Musk, and software company Confinity. PayPal was acquired by e-commerce giant eBay in 2002 for $1.5 billion before being spun off as a separate entity in 2015.
More catalysts could fuel gains in PayPal's shares. Its Chief Executive Officer Dan Schulman has been working on a plan to improve PayPal's operating leverage — or the ability to grow revenue faster than expenses which rose 18% in the second quarter.
That push is expected to progress after activist investor Elliott Investment Management became one of its largest shareholders by building a $2 billion stake. According to Schulman, the recent cost-cutting measures will save $900 million this year.
In addition, he is making returning capital to shareholders one of its priorities. The company recently approved $15 billion in share buybacks, which should support the stock.
Due to this strong market position, InvestingPro's valuation models predict an attractive upside potential in PYPL stock from its current level.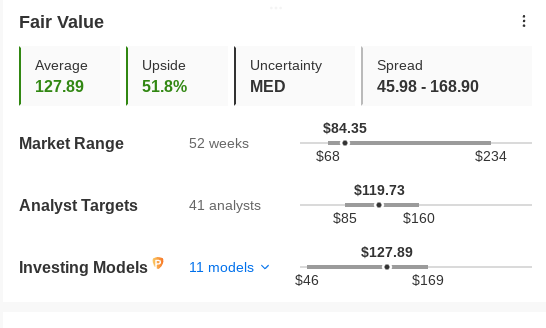 PayPal Fair Value
Source: InvestingPro
In a recent note to clients, Raymond James upgraded PYPL to outperform from market perform, setting a $123 price target. PYPL traded on Tuesday at $84.86. The note says:
"In our view, PYPL is exactly the type of stock you want to own in this tape – defensive growth driven by secular tailwinds, significant FCF generation, clean balance sheet, FY23 estimates biased higher, not lower—all at a reasonable valuation (5.6% FCF yield)."
Bottom Line
Over the long run, PayPal is well positioned to benefit from its various offerings, including its digital wallets for consumers, checkout buttons for merchants, the introduction of a "pay with Venmo" option on Amazon (NASDAQ:), and its payment-processing platform for merchants called Braintree.
For those reasons, I consider the stock a buy—at least, for those that can stand the stock's probable short-term volatility.
Disclosure: At the time of writing, the author doesn't have a position in stocks mentioned in this article. The views expressed in this article are solely the author's opinion and should not be taken as investment advice.