Article content
The Mayerthorpe Mustangs U18 team hosted the Whitecourt Wolverines at the Mayerthorpe Exhibition Centre Friday night.

Article content
The Mustangs emerged victorious, with a score of 9-5 and 26 shots on goal.
"We came out a solid game, from top to bottom," Mustangs Head Coach Bill Hughes told the Mayerthorpe Freelancer.
"Lots of hitting, checking, forechecking, you name it."
The Mustangs began their season in October and will continue to mid-February, with seven more games expected, he said.
"Our season has been up and down, but right now we're on a hot streak," Hughes said.
The Mustangs have been busy with two practices a week, he added.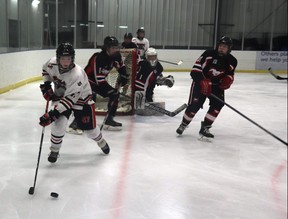 The Wolverines and Mustangs began second period with the home team up 2-1. By the end of a strong second period, the Mustangs were leading 6-1 with 21 shots on goal.
With less than three minutes left in the game, the Mustangs had nine goals and the Wolverines scored their fourth.
With two minutes left, the Wolverines had scored their fifth.
Another winner of the game was Ryder Prutton, 10, an Elmer Elson Elementary School student.
A hockey player himself, during intermission Prutton scored a shot through a small opening and won $300.
Prutton said he will like "just save" the prize money.