Ares Capital (NASDAQ:ARCC) is a well-managed business development company that promises to protect passive income investors from a 2023 recession.

The BDC has a well-structured investment portfolio with a focus on secured lending and strong diversification. Ares Capital has also outperformed the S&P500 stock index over a long period of time, demonstrating its value to passive income investors, particularly during difficult times, which I believe we are about to enter.
Ares Capital's stock price fell last week after the company announced a stock offering, which I believe is a good time to buy.
Considering the BDC's outperformance record, senior-lending focused debt investment portfolio, low loan losses, and consistently high dividend coverage, I believe ARCC is the best BDC that passive income investors can own during a 2023 recession, stock offering or not.
History Of Performance
Despite the fact that past performance is no guarantee of future performance, business development companies that have performed well as a public company in various market environments over the last decade are likely to perform well in the future as well.
When compared to a broad stock market index, such as the S&P500, Ares Capital has a very good track record: $1 invested at the BDC's IPO date more than 19 years ago resulted in a 65% higher return for passive income investors than an S&P500 investment, assuming they reinvested dividends on a regular basis.
What strikes me here is that Ares Capital achieved this significant alpha during periods that included the 2008 financial market crash as well as the Covid-19 pandemic, which resulted in a major shutdown of the U.S. economy in 2020.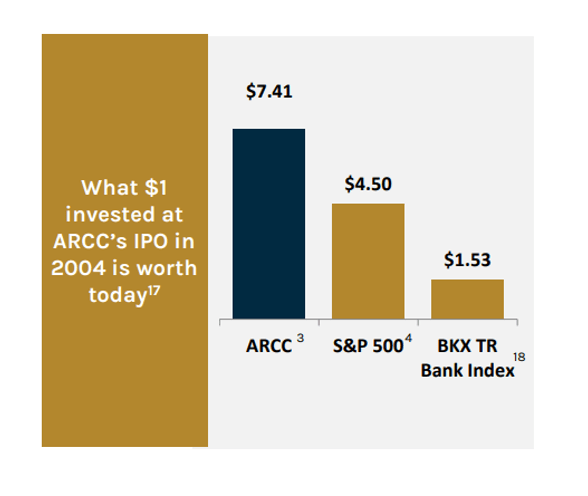 Ares Capital Is A Superb Credit Manager
One of the reasons I like Ares Capital is that it has a track record of successful debt management in a variety of market environments, which is something investors would appreciate more now that we appear to be on the verge of a recession.
The BDC's management team is comprised of experienced debt managers who have kept Ares Capital's loss rates well below the industry average.
Ares Capital's strong credit performance has been driven primarily by its focus on senior secured lending (68% of investments are high quality First and Second Liens), disciplined diversification (the average position size of an investment is 0.2% of portfolio fair value), and avoidance of exposure to volatile, high-risk industries such as airlines, construction, or building materials.
These industries have highly volatile cash flow patterns, which raises the overall risk of a lender's portfolio. The fact that ARCC does not invest in such industries improves the quality of the BDC's portfolio and increases dividend stability.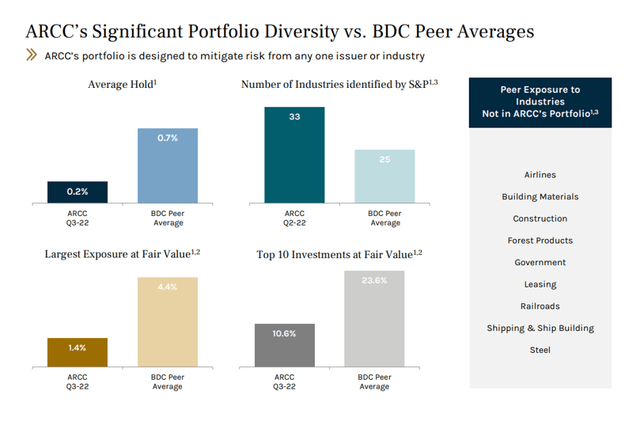 Dividend Coverage Has Been Consistent And Excellent
This point has been emphasized previously, but I believe it is worth repeating in light of Ares Capital's strong portfolio performance. Since the company's IPO in 2004, Ares Capital has consistently outperformed its dividend with core earnings plus net realized gains.
Ares Capital has also produced double-digit returns on equity for the majority of this time, including during the financial crisis.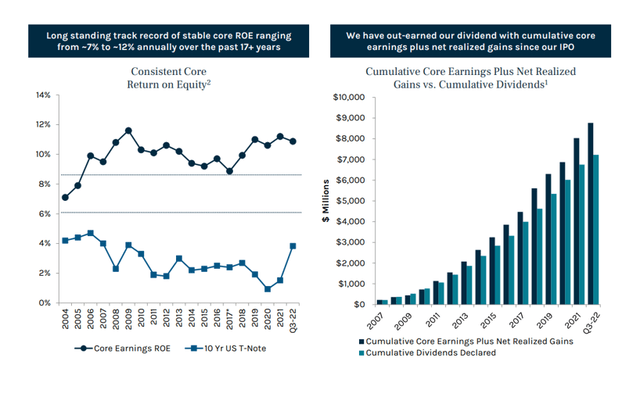 Stock Offering
BDCs sell stock to the general public in order to raise funds for new investments. Stock prices typically fall when BDCs offer more stock due to the increased number of shares outstanding (which typically leads to lower EPS).
ARCC issued 10,500,000 shares of common stock on January 13, 2023, an increase from its previous offering of 9,000,000 shares, causing the stock to fall by approximately 4%.
Despite the fact that the U.S. economy may be on the verge of a recession, I believe the drop is a good time to consider ARCC for the reasons mentioned in this article.
Premium Valuation Is More Than Deserved
Ideally, passive income investors should purchase quality BDCs at a discount to intrinsic value, which is the net asset value for business development companies.
Having said that, companies like Ares Capital, which has consistently outperformed the S&P500 over nearly two decades, deserve to trade at a premium to net asset value.
ARCC is currently trading at around book value (P/B ratio of 1.01x), but the stock could trade at a P/B ratio of 1.15-1.20x, in my opinion, given the strength and diversification of the underlying debt portfolio.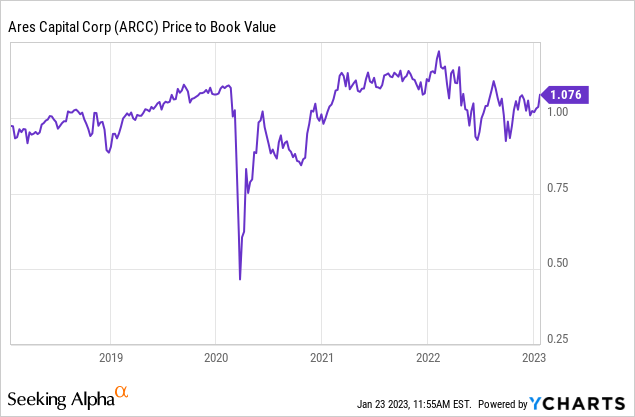 Ares Capital And Recession-Related Risks
Even though Ares Capital has a top-rated track record of keeping loan losses low over a long period of time, non-accruals may rise during a recession, affecting the company's net investment income growth.
Given that Ares Capital has covered its dividend with core earnings plus net realized investment gains, I believe that dividend coverage is not a concern for passive income investors even in a downturn.
My Conclusion
Ares Capital is the largest publicly traded BDC and one of the best-managed business development companies in the industry.
ARCC, in my opinion, is uniquely suited as a recession hedge due to its compelling long-term track record of managing a senior-focused debt portfolio with low defaults and high levels of diversification.
Furthermore, investors should concentrate on Ares Capital's long-term value, which is based on the BDC's superior credit investment experience, rather than on short-term events like last week's fairly routine stock sale.